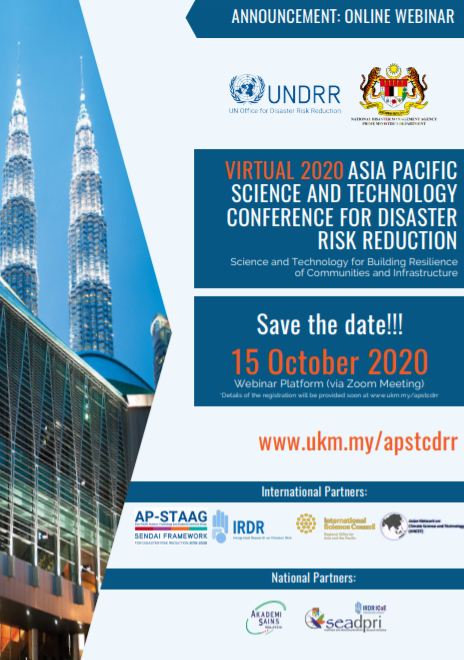 Malaysia will host the 2020 Asia Pacific Science and Technology Conference for Disaster Risk Reduction on 15 October 2020 virtually, in partnership with the United Nations Office for Disaster Risk Reduction (UNDRR) Asia Pacific Science Technology and Academia Advisory Group (APSTAAG), whose members play a crucial role in strengthening regional networking and providing advice and insight to boost national science and technology capacities.
The virtual 2020 eAPSTCDRR aims to provide an opportunity to the science, technology, and academia community in Asia and the Pacific to continue the much-needed science-policy dialogue to ensure the implementation of disaster risk reduction (DRR) measures are based on reliable science, technology and innovation. Successful applications of science and technology in preventing and mitigating risks from different types of hazards including flood, earthquake, drought, health and other climate-related hazards will be showcased.
Kindly refer to the program leaflet and visit http://www.ukm.my/apstcdrr/ for registration and further information.
Download presentation slides here.
Click here to watch the recording.