Workshop on Atmospheric Chemistry and Climate Change in Asia  (WACCCA 2014)
By Mohd Khairul Zain Ismail  
The Workshop on Atmospheric Chemistry and Climate Change in Asia (WACCCA 2014) was jointly organised by Universiti Kebangsaan Malaysia (UKM), University of Malaya (UM), the Cambridge Malaysian Education and Development Trust (CMEDT), the Malaysian Commonwealth Studies Centre, Cambridge (MCSC), and the Asian Network on Climate Science and Technology (ANCST), in collaboration with the Institute of Climate Change UKM, the Institute for Environment and Development (LESTARI-UKM), the Southeast Asia Disaster Prevention Research Initiative (SEADPRI-UKM), the Institute of Ocean and Earth Sciences (IOES-UM), the University of Cambridge, and the National Council of Professors. It was held from 14-15 July 2014 at the Kompleks Pengurusan Penyelidikan dan Inovasi, University of Malaya, Kuala Lumpur, Malaysia. It was attended by many local and international researchers and students, and academics from various countries, mainly from Asia. The Workshop was officiated by Prof. Dr. Awang Bulgiba Awang Mahmud, Deputy Vice Chancellor of the University of Malaya.
The Workshop successfully achieved its objectives, which were to provide an opportunity for discussion and interaction between researchers, experts and environmental organisations from Asia and the rest of the world, and to share this knowledge and expertise to expand research and education on climate change. Research papers and posters presented were on all aspects of atmospheric chemistry and air quality including field and laboratory measurements, chemical transport modelling and other research-related focuses on the study of atmospheric chemistry in Asia.
The Workshop was presented in three sessions: (1) Aerosol and Compositions; (2) Ozone and other Trace Gases; (3) Effects of Atmospheric Aerosol and Atmospheric Modelling. Five keynote papers were also delivered at the workshop. Among the keynote speakers were Emeritus Prof. Dr. Lord Julian Hunt on The Changing Asian Atmospheric Environment, Prof. Dato' Dr. Azizan Abu Samah on the Dynamic Drivers of the South China Sea and Its Variability, Prof. Dr. Peter Brimblecombe on Climate Change and Biomass Haze, Prof. Dr. Johnny Chan on Effects of Urbanisation on Local and Regional Climate, and Prof. Dr. John Pyle on Chemistry-Climate Feedbacks in the Tropics: Atmospheric Chemistry Implications of Emissions from the Land and the Ocean. The Workshop concluded with a panel discussion in which all keynote speakers participated. Prof. Dr. Mohd Talib Latif, Chairman of the WACCCA 2014 conveyed the essence of the Workshop in his closing remarks.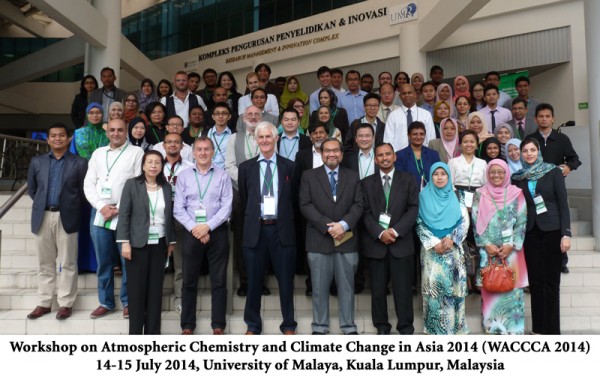 For Presentation Files during workshop see DOWNLOAD