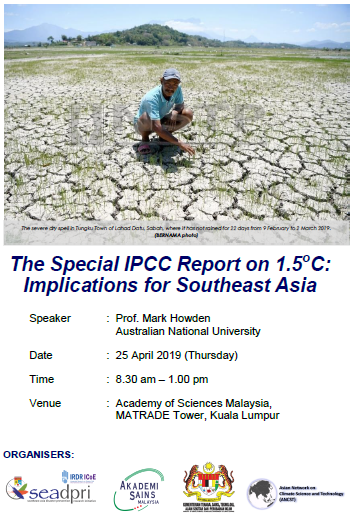 Universiti Kebangsaan Malaysia's Southeast Asia Disaster Prevention Research Initiative (SEADPRI-UKM) in collaboration with the Academy of Sciences Malaysia (ASM) and Asian Network on Climate Science and Technology (ANCST) convened the Forum SEADPRI 2019 @ ASM on "The Special IPCC Report on 1.5oC: Implications for Southeast Asia". The Forum featured Prof. Dr. Mark Howden, Director, Climate Change Institute, Australian National University.
Details of the Forum are as follows:
Date                 : 25 April 2019 (Thursday)
Time                : 8.30 am – 1.00 pm
Venue              : Academy of Sciences Malaysia, MATRADE Tower, Kuala Lumpur
Watch the Forum here.