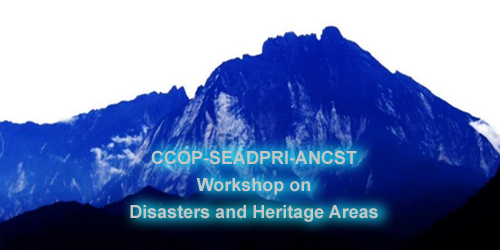 Invitation to present country experience or case study
Introduction
Heritage Areas or Sites, are cultural and/or natural sites considered to be of outstanding value, selected on the basis of having cultural, historical, and scientific; or some other form of significance. The scope of heritage areas in this workshop expands to include World Heritage Sites, national heritage sites, geoparks and conservation parks/areas, of being unique in some respect as a geographically and historically identifiable piece of special cultural or physical significance (i.e. ancient ruins or historical structure, building, city, complex, desert, forest, island, lake, monument, or mountain).
Date: 15 October 2017
Time: 1400 – 1630
Venue: 53rd CCOP Annual Session 2017 in Waterfront Cebu City Hotel and Casino, Cebu, the Philippines
The workshop intends to highlight the inclusivity of three elements: (1) heritage areas of national significance; (2) disasters; and (3) humans, where these geological and/or cultural heritage areas exhibit the relict, processes or vulnerability to geological or climatic disasters within the existing community. Examples include proximity of heritage sites to volcanos, large-scale landslides, earthquakes, tsunami or mega-floods and other potential disasters. The sites could be areas showcasing sustainable utilization, public education, geotourism and ultimately disaster risk reduction (DRR).
Objectives
To promote development of heritage sites associated with disaster risks or impacts.
To share experience on the role of public education for heritage areas in the context of disasters.
To create awareness on the importance of sustainable development and DRR for local community living in the vicinity of the disaster-prone natural heritage areas.
Tentative Program:
Opening & Introductory Remarks (10 minutes)
Short presentation on (a) General Overview and/or (b) Cases of disasters in heritage areas in their country (12 minutes each, estimate 6 presenters)
Discussion (45 minutes)
Closing (5 minutes)

Estimated participant:
30 – 45 person. The findings of the workshop will be compiled to capture information on the status, development and threats to heritage areas in the region.
More Info: http://www.ccop.or.th/activity/397