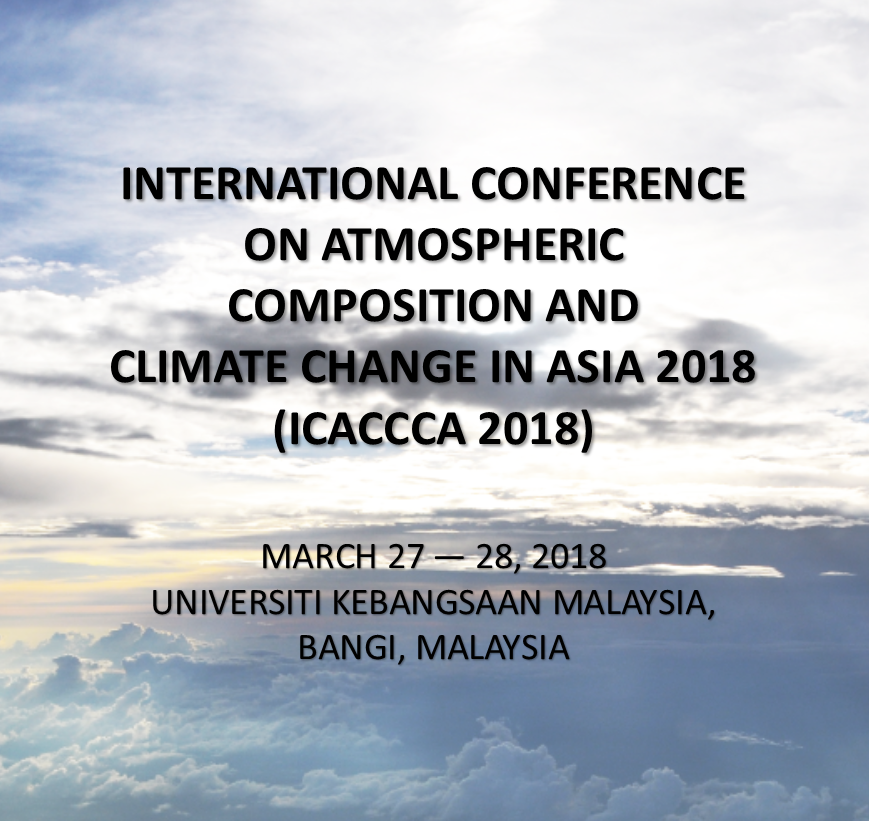 International Conference on Atmospheric Composition and Climate Change in Asia 2018 (ICACCCA 2018)
Date: 27-28 March 2018
Venue: Universiti Kebangsaan Malaysia, Bangi, Malaysia
---
BACKGROUND
Atmospheric composition and climate change are among the key issues in atmospheric science studies. The release of various chemicals into the air has resulted in an increase of primary pollutants causing problems to human health and physical atmospheres. Primary chemical interactions will form secondary pollutants causing greater environmental problems. The presence of more stable secondary pollutants causes these materials to affect the changing climate of the earth.
Recognising the importance of chemical interactions and their impact on climate change, some studies have been conducted in the field of atmospheric composition and climate change. The development process in Asia causes the region to be vulnerable to issues of emission of pollutants into the atmosphere which results in chronic health effects and poor atmospheric physical conditions. Chemical emissions from biomass and industrial combustion are among the two major factors that still contain air quality issues in the region.
T​he aim of this conference is to provide an opportunity for discussion and interaction between researchers, experts and environmental organisations from Asia and others countries to share knowledge and expertise in atmospheric composition and climate change research (see Programme).