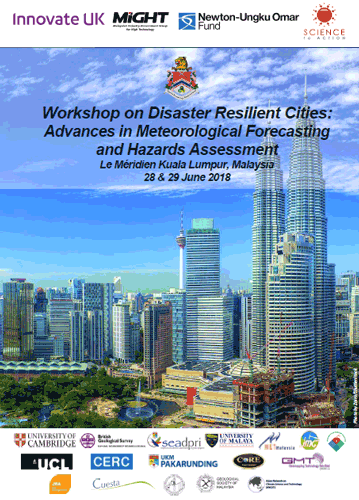 Officiated by:
YBhg. Tan Sri Hj. Mhd. Amin Nordin bin Abd. Aziz
Mayor of Kuala Lumpur
The workshop on "Disaster Resilient Cities: Advances in Meteorological Forecasting and Hazards Assessment" is part of the Newton-Ungku Omar Fund (NUOF) project entitled Disaster Resilient Cities: Forecasting Local Level Climate Extremes and Physical Hazards for Kuala Lumpur. The workshop aims to disseminate information, build capacity and interface with stakeholders at the city level. Participants include regional and Malaysian experts as well as early career researchers supported by the Malaysian Window to Cambridge at Universiti Kebangsaan Malaysia ([email protected]), hosted by UKM's Southeast Asia Disaster Prevention Research Initiative (SEADPRI-UKM).
The workshop will focus on advances in meteorological forecasting and hazards assessment, which is of great importance to various stakeholders including government agencies and the private sector in managing risk information, financing and investment. This workshop will be a platform for sharing knowledge and views on meteorological and hazard forecasting due to extreme weather events (Programme). 
Download slide presentations here.