Workshop on Status of Climate Science and Technology in Asia
15-16 November 2018
Kuala Lumpur, Malaysia
---
INTRODUCTION
The Intergovernmental Panel on Climate Change (IPCC) is currently in its Sixth Assessment (AR6) cycle and will be delivering several policy-relevant reports between 2018 and 2022. The IPCC AR6 cycle has commenced with the preparation of three Special Reports: Global Warming of 1.5°C, Ocean and Cryosphere in a Changing Climate, and Climate Change and Land. This will be followed by formulation of the full Sixth Assessment Report (IPCC AR6), which includes three working group contributions on different aspects of climate change and the Synthesis Report that will be completed by 2022.  The regional chapter on Asia (Chapter 10) of the IPCC Working Group II report will document an assessment of the region with respect to several elements. These include specific climate observations and projections, vulnerabilities and impacts on ecosystems (terrestrial, freshwater, marine), built environment, industry and infrastructure and human systems as well as present knowledge of adaptation and mitigation activities and its interactions among activities in line with development goals (http://www.ipcc.ch/).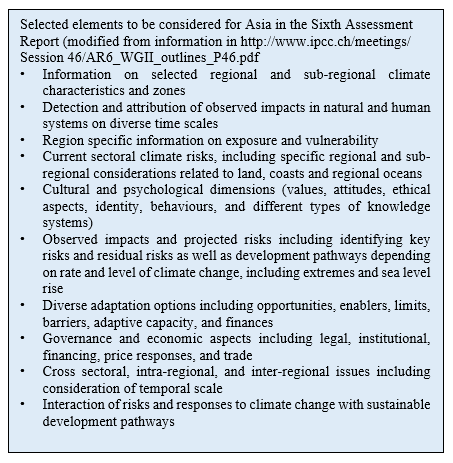 The Asian Network on Climate Science and Technology (ANCST) facilitates collaboration and exchange of information between researchers engaged in scientific and technological aspects of climate science, climate change, natural disasters, as well as associated impacts and adaptation specific to Asian conditions and phenomena. Solution pathways to key Asian issues are pursued through strategic alliances, collaborative projects, high level science-policy interfacing, capacity building and outreach, from its base at Universiti Kebangsaan Malaysia's Southeast Asia Disaster Prevention Research Initiative (SEADPRI-UKM). The ANCST Bulletin Board has been actively sending out email alerts to about a thousand scientists working on climate science and disaster resilience in Asia on time-sensitive news related to the IPCC AR6 (i.e. calls for expert review, chapter scientists and author nominations), and this has doubled the growth of the virtual network.
ANCST is collaborating with the Asia-Pacific Network for Global Change Research (APN) and International Council for Science Regional Office for Asia and the Pacific (ICSU-ROAP) to enhance support for the IPCC AR6 cycle. The primary aim is to improve participation and coverage of scientific information in Asia particularly for sub-regions such as Central Asia, West Asia, Southeast Asia and the Hindu Kush Region (South Asia). The Workshop on Status of Climate Science and Technology in Asia to be convened in Kuala Lumpur on 15-16 November 2018 will serve as the first event in a series of initiatives to strengthen Asian participation and contribution to the IPCC AR6 cycle.
OBJECTIVES
The workshop will serve as a platform for the following:-
Bringing together scientists working on Asian issues to share current knowledge and technology on climate change, disaster risk reduction and their interactions with sustainable development;
Linking authors working on the IPCC AR6 cycle to senior and early career scientists in Asia, particularly from Central Asia, West Asia, Southeast Asia and the Hindu Kush Region (South Asia);
Connecting key science institutions in Asia to support the IPCC AR6 cycle and enhance contribution to the corpus of knowledge on climate science and technology in the region.
 EXPECTED OUTCOME
The workshop is expected to contribute to the IPCC AR6 cycle in the following ways:
Providing a snapshot of the status of present knowledge on climate science and technology in Asia, particularly for poorly covered sub-regions in the previous IPCC assessments;
Enable informal interaction between key authors involved in the IPCC AR6 cycle prior to the formal meetings scheduled to start in 2019, and facilitate their networking with scientists from Asia;
Enhance the participation of senior and early career scientists from inactive sub-regions of Asia in the IPCC AR6 cycle as Reviewers, and where appropriate as Contributing Authors and Chapter Scientists;
Promote peer reviewed publications on topics of relevance, particularly for poorly covered sub-regions in Asia;
Create an impetus and sustain the momentum of scientific participation and contribution of Asian scientists to the IPCC AR6 cycle through the communication mechanisms and initiatives of ANCST.
The full report of the Workshop will be made available on the website of ANCST [http://www.ancst.org/] and presented to Governments at the IPCC Plenary Session in 2019. The findings will be published and disseminated to multiple end-users in the region. It will serve as the basis for identifying urgent research needs for advancing science, technology and innovation to support the IPCC AR6 cycle.
PROGRAMME & THEMATIC FOCUS
The programme will consist of invited oral and poster papers documenting current knowledge of adaptation options, mitigation activities and their interactions with development goals in Asia. Invited participants will be required to provide full manuscripts that will be peer-reviewed and published in indexed journals. The emphasis will be on sub-regional reviews or case-studies structured around the following themes:-
Climate observations and projections;
Vulnerabilities and impacts on ecosystems (terrestrial, freshwater, marine) and their uses and management;
Cities, settlements and key infrastructure;
Health, wellbeing and the changing structure of communities;
Poverty, livelihoods and sustainable development;
Disaster risk reduction and climate change linkages.
APPLICATION FOR SPONSORSHIP
Scientists who would like to contribute to the IPCC-AR6 process and early career scientists below the age of 35 are encouraged to apply. The eligibility for full sponsorship is as follows:-
CITIZENSHIP: Priority will be given to scientists and early career researchers from Central Asia, West Asia, Southeast Asia and the Hindu Kush Region (South Asia);
EXPERIENCE: Working in a university or research institution, after having obtained a doctoral degree;
TRAVEL: Able to advance payment for air-fare and be reimbursed upon submission of a full manuscript, in line with the guidelines provided;
ABSTRACT: Submission of an abstract (250 to 300 words, maximum) based on original research or regional review in the themes mentioned above by 10 October 2018;
FULL MANUSCRIPT: To be submitted soonest before 31 December 2018; the guideline will be provided to successful participants. 
DEADLINES
Submission of Abstract with full contact details: 10 October 2018
Notification to applicant: 15 October 2018
Submission of full manuscript: 31 December 2018
COLLABORATORS
Asian Network on Climate Science and Technology (ANCST)
Intergovernmental Panel on Climate Change (IPCC)
Asia-Pacific Network for Global Change Research (APN)
International Council for Science Regional Office for Asia and the Pacific (ICSU-ROAP)
Southeast Asia Disaster Prevention Research Initiative, Universiti Kebangsaan Malaysia (SEADPRI-UKM)
For further information, please contact: