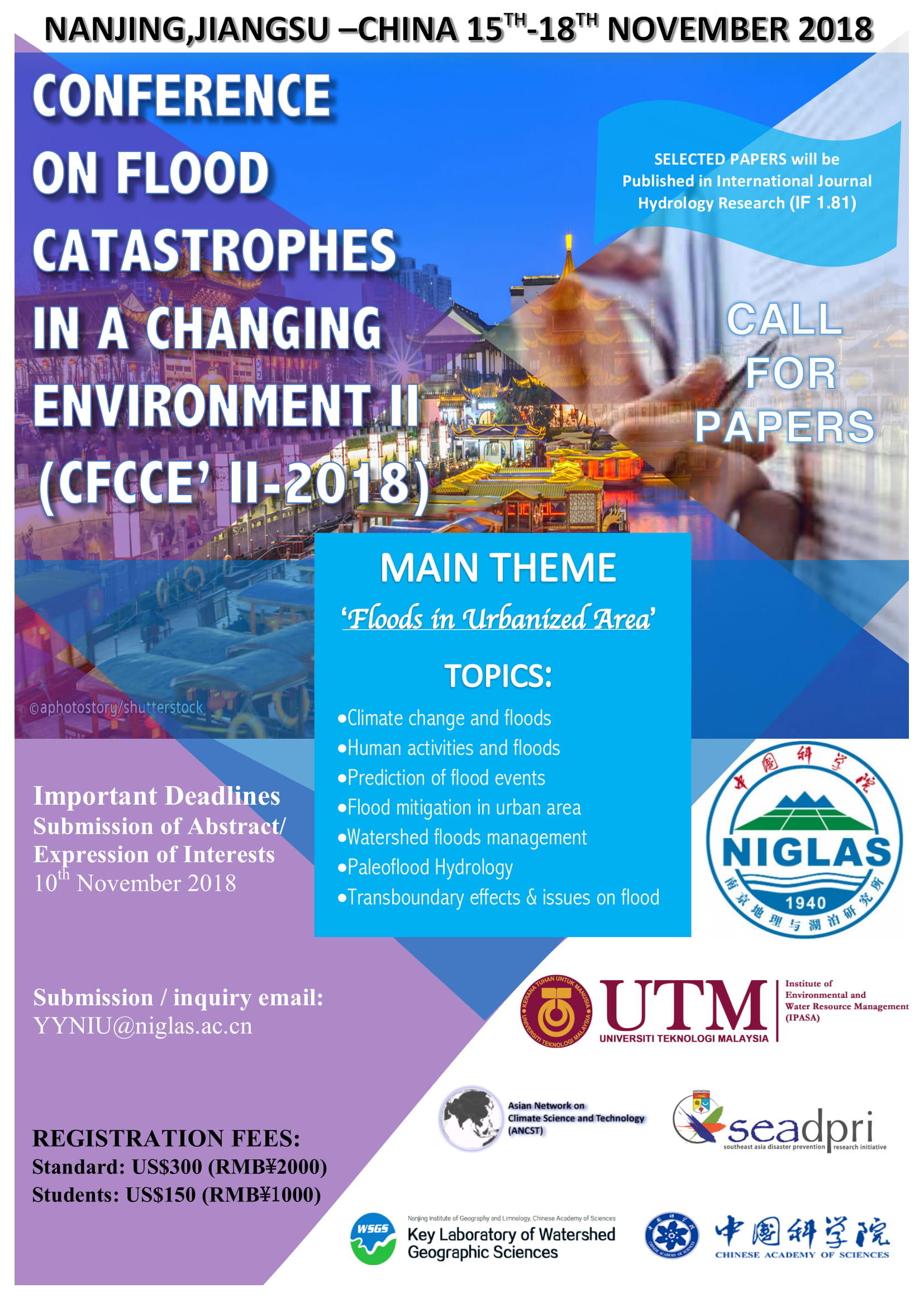 ---
INTRODUCTION:
Flooding is one of the natural disasters that causes severe losses and damage across the world. Recent studies indicated that the occurrence frequency of flooding might increase under future climate conditions. In addition, strong human activities, e.g. rapid urbanization and construction of hydraulic engineering, significantly modified drainage networks and further promoted floods risk. This is particularly true in many large rivers and lakes in the world, including Yangtze River and the connected lakes. Damages arisen from flooding attract serious attention of the government and local communities.
This conference is the 2nd one following the first one held in 2016 in Malaysia. It will provide a forum for researchers and managers to share the latest research outcomes on floods in typical areas. It is anticipated an improved understanding of the driving mechanism of flood events be achieved, and approaches of possible mitigation be suggested. Practice on flooding management from different regions will be shared in this conference.
TOPICS:
Climate change and floods
Human activities and floods
Prediction of flood events
Flood mitigation in urban area
Watershed floods management
Paleoflood Hydrology
Transboundary effect, issues on flood and interactions
IMPORTANT DEADLINES (CLOSED)
Submission of abstract/expression of interests: 10th November 2018
ABSTRACT SUBMISSION (CLOSED)
Please submit your abstract to [email protected]
Selected papers will be published in a special issue of international journal "Hydrology Research" (Scopus Indexed IF: 1.81)
REGISTRATION FEES:
Standard: US$300 (RMB¥2000)
Students: US$150 (RMB¥1000)
ORGANIZER:
Nanjing Institute of Geography and Limnology, Chinese Academy of Sciences (NIGLAS)
CO-ORGANIZERS:
Universiti Teknologi Malaysia, (UTM), Skudai-Johor. Malaysia.
Asian Network on Climate Science and Technology International Steering Committee (ANCST)
Southeast Asia Disaster Prevention Research Initiative (SEADPRI), Universiti Kebangsaan Malaysia (UKM).
Sate Key Laboratory of Watershed Geographic Sciences, Chinese Academy of Sciences (WSGS)
Poyang Lake Aquatic and Wetland Ecosystem Observation and Research Station, CAS
GENERAL INQUIRY:
Please contact Miss Lei TAN (E-mail: [email protected]) for any inquiries.
For further information, please refer to the conference brochure here.